Moving to the Lehigh Valley and Bucks County areas, Coldwell Banker Heritage Relocation Department will be happy to assist with your move. Our certified Relocation Team has the tools and training plus are professional and courteous to all clients ensuring superior customer service. Moving away from the area, we can help with our vast network of Brokers. Contact our Relocation Department: 610-398-3744.
Setting the industry standard for years, Benchmark has taken a different approach to the changes and challenges we face in our industry. We enjoy serving our community and always look for ways to help or give back to our community. At Benchmark, we are dynamic, focused, and committed to creating a long-term relationship with you, and your family. It I not just how we do business, it's our way of life. Benchmark Mortgage 484-273-2888.
Associated Abstract Service LLC handles all your real estate needs with closing for the three Coldwell Banker Heritage locations. Protect yourself and your home with settlement services and owner's title insurance with Associated Abstract Services LLC. Friendly and proficient title and settlement services by our highly experienced professionals. Associated Abstract Services 610-398-8019.
Heritage Insurance Group, Inc. has been serving the Lehigh Valley since 1986. Professional agency with personal service. We treat our customers like family. We do not work for an insurance company; we work for YOU. We represent a carefully selected group of financially sound, reputable insurance companies. Heritage Insurance 610-398-1535.
Payload is a platform Coldwell Banker Heritage Real Estate offers to automate Earnest Money Deposits. It is easy to use, secure and ensures your deposit will be made in a timely manner.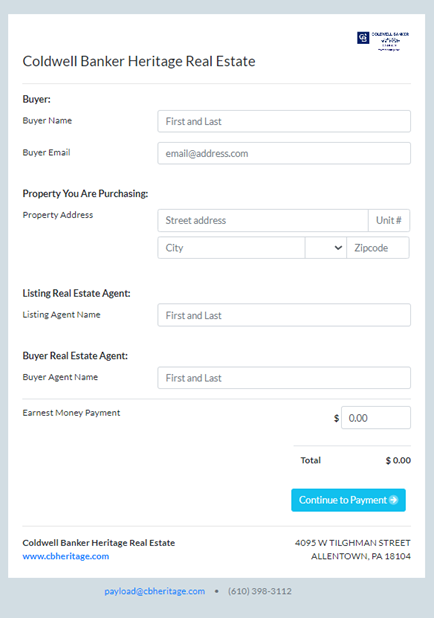 Coldwell Banker Heritage partners with American Home Shield (AHS) Home Warranty Protection Plan to offer comprehensive and affordable home warranty coverage.
Whether buying or selling a home, AHS's home warranty plan can provide valuable coverage on the covered major systems and appliances. Details of coverage are listed within the AHS brochure.
A home warranty is not homeowner's insurance. The home warranty is a service contract that protects you from the high cost of unexpected failures to the systems and appliances in your home by helping to pay for the repair or replacement of covered items that break down due to normal wear and tear. This is a powerful marketing tool for a seller that gives you a competitive advantage over other homes on the market. The plan also offers some coverage for sellers during the listing period. Buyers will be covered from the day of closing for one full year. Your sales associate will assist you if you enroll in the program.